Multi-Crypto payment gateway for iGaming industry
Simplify payment processes, enhance customer experience and stay ahead in the ever-evolving gambling and betting market with our cutting-edge crypto payment solution, that allows you to settle payments in both crypto and FIAT currencies.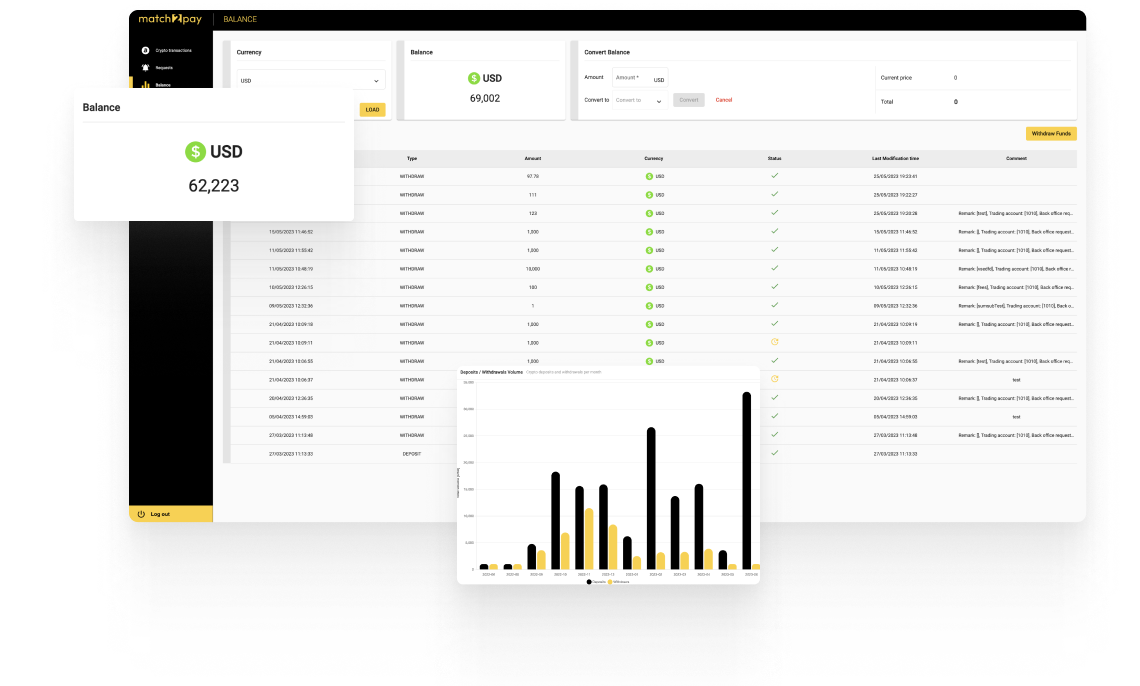 Maximize your business potential with our seamless integrations to leading payment platforms




Crypto payment solution for online Betting and Gambling
Flexible onboarding
With Match2Pay's experience in onboarding companies from the industry, iGaming platforms can quickly tap into the growing crypto market, expanding their global reach and attracting new players. You can start accepting crypto payments from your clients within a few days.
Global solution
We always ensure to adapt to the needs of our clients to build their payment processes according to the unique requirements of online gaming platforms, ensuring that our solutions cater to the global presence of the merchant. Our solution eliminates minimum transaction fees for small international transfers on certain chains.
Forefront of industry events
Our presence in the leading expos in the iGaming sector allows us to show our technology to potential partners, follow the market trends and drive innovation. Check our calendar and join us there, to see firsthand how Match2Pay can transform your business.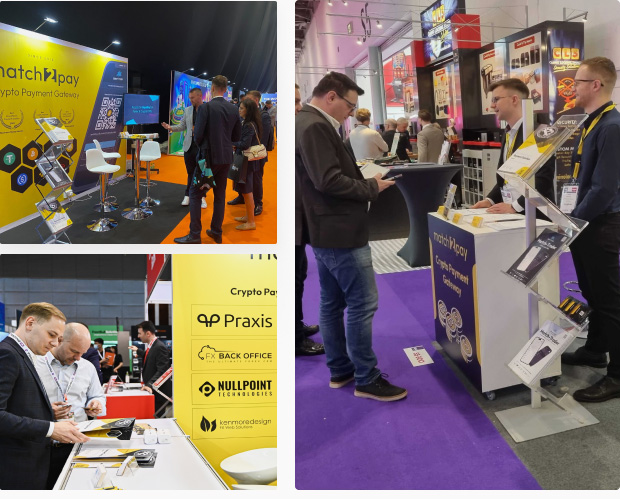 Seamless financial monitoring
Gain improved financial visibility and control over your business operations with our platform's advanced features.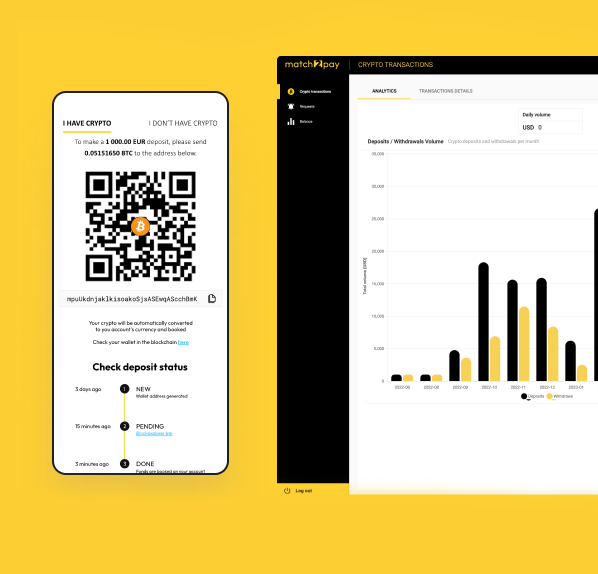 Possibility to track every payment
Both merchants and end-users can track transactions through embedded links to the crypto scanners. In case the end-user encounters an issue during the transfer, our automated solution and support team will make every effort to help retrieve the funds, even if the wrong token was used.
Crypto to FIAT conversions
Crypto payments can either be converted to fiat currencies like USD or EUR before being booked in clients' accounts, or they can be retained as they are, depending on the merchant's risk appetite. Our competitive FX rates also enable them to settle in various currencies at an affordable cost.
Embedded methods to buy crypto in one flow
If your clients do not own cryptocurrencies, they can buy them in one payment flow via credit card or wire transfer using third-party on-ramp methods, which enables businesses to cater to a broader audience via one integration.
Even more advantages for Operators
All business components in one place, already integrated. Experience significant time savings, enhanced operational efficiency and better financial oversight.
Expanded payment options
Match2Pay supports multiple crypto, allowing iGaming businesses to offer a wide range of payment options to their players. Users who don't own crypto can purchase them directly through credit cards or wire transfers. We offer fiat-crypto methods via third-party providers embedded in our payment pages.
Dedicated technical support
All our clients can benefit from 24/7 technical support through multiple messengers, eliminating the need for a ticketing system. Each business is assigned a dedicated account manager, providing personalized assistance and guidance to address all their specific need.
Multi-level advanced security
Match2Pay prioritizes security, ensuring that transactions are processed safely. Years of experience allow us to handle clients' funds in a smart way, finding the balance between keeping most of the funds in the offline wallets, while still allowing your customers free access to withdraw 24/7.
Innovate your payment processes
Download our brochure to discover how our secure and innovative payment gateway can empower your business.
FAQuestions
I use a wallet to collect crypto transfers from my clients already. What added value can your solution offer?
Our Crypto Payment Gateway generates individual addresses for your clients which allows you to identify who sent the funds and how much immediately. Using one wallet in case of an open ledger is a risk, because all transactions are visible to everybody, so anyone could fake being a sender of the funds using the data in the open ledger.
I want to allow my clients to have a new funding method, but I do not want to take a risk of cryptocurrencies volatility, do you offer such protection to the merchant?
Yes, when using our Match2Pay Standard solution, you can set up everything in a way that we will convert all volatile crypto currencies for you to the balances in USD, EUR or any other major currency. This will not only help you to avoid volatility risk, but our processor will also provide your CRM with the exact exchange rate to book on the client's account. What is also unique about our solution is that we convert stable coins with USD 1:1, which makes it even simpler to use by the merchants focused predominantly on USD deposits used worldwide.
Can I settle what I collected from my clients in fiat currencies to my bank account?
Depending on the industry and jurisdiction of the client, we can offer settling in fiat currencies. The list of currencies may vary, so please contact us to check which are available for you. For the clients to whom we can't offer settlements in fiat currencies, we can offer settlements in stable coins 24/7 and free of charge.
I already process very large volumes with a lot of transactions, but I am not always happy with the stability and support offered by my current provider. What can you offer better than others?
Match2Pay software was developed by Match-Trade Technologies, a software company catering to the Forex/CFD brokers for more than ten years. Our software and support are focused on the demanding customers, who value high quality, reliability and speed of service. We are also a part of the ecosystem with many cashiers and CRMs having our crypto gateway integrated already, which should make switching to us relatively easy. We also support integrations via chat, not tickets. And last but not least, thanks to our scale and optimised costs, we can offer competitive pricing to the merchants with existing and proven flow.
My company is new to crypto processing and I am not sure how large the interest in this payment method is among my customer base. Is your solution also meant for the merchants like me?
We have different sizes of customers and we try to help them all, depending on their needs and scale. We do not charge a minimum monthly fee, so even smaller merchants can use our solution freely using a principle of "pay as you use". Thanks to many years of experience in the crypto industry, we can also suggest the best crypto currencies to use depending on the type of the industry or the geolocation of the end users.